You have surely used one free cloud storage service to store something… for backup, right? I know I have. Tell you what, I lost a whole book recently because I forgot to back it up. So, trust me when I tell you, a cloud storage service is essential in 2023.
In this post, I will look at the top cloud storage services in 2023 and why you should consider each.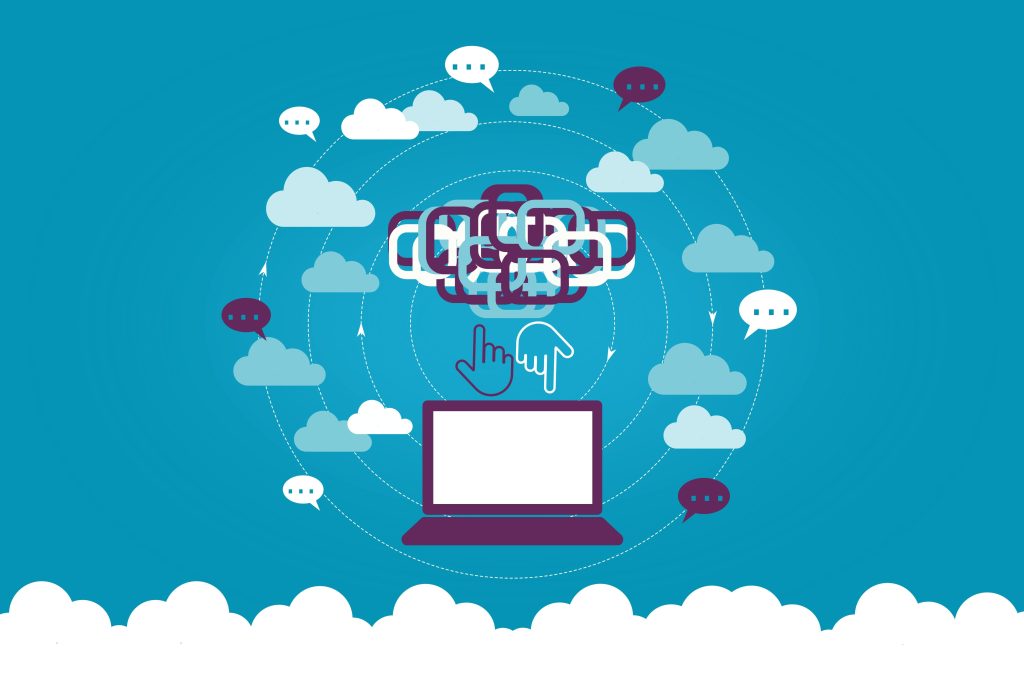 What is Cloud Storage?
Cloud storage offers a cost-effective, scalable alternative to saving data on an on-premise HDD or SSD. This is done by letting you store data in an off-site location. SaaS is an offering of cloud computing where the provider gives you access to their cloud-based software.
Cloud storage is a scalable solution. How? You can reduce or expand the storage capacity to fit your needs. This minimizes the cost spent on storage– already much lower than physical drives.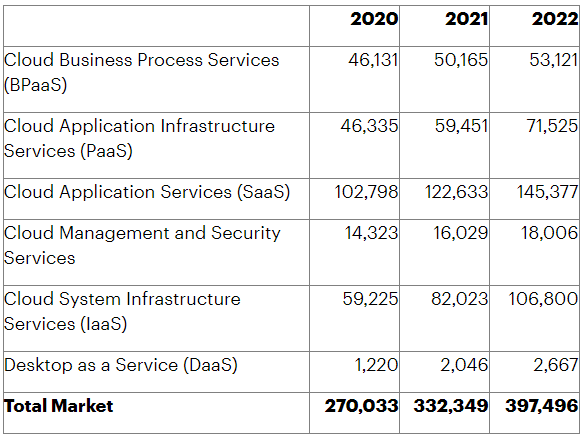 There are four primary types of cloud storage:
Private cloud storage: Private clouds reside within your network, creating virtual server instances to increase capacity. In addition, you can take full control with on-premise private clouds. Also, you usually store more sensitive data on private cloud storage. For example, Nextcloud is a great private cloud option to look into. Recently, we published an article on how to set Nextcloud with Docker.
Public cloud storage: Public clouds are maintained by a cloud provider for use by other companies. The providers let you access these public cloud storage from any device. Moreover, you frequently store less sensitive data on public cloud storage. These are the ones explored below.
Hybrid cloud storage: This type combines parts of private and public clouds, giving companies a choice of which data to store in which cloud.
Community cloud storage: Community clouds are types of the private cloud storage, allowing many "tenants" to share a private pool of cloud resources easily.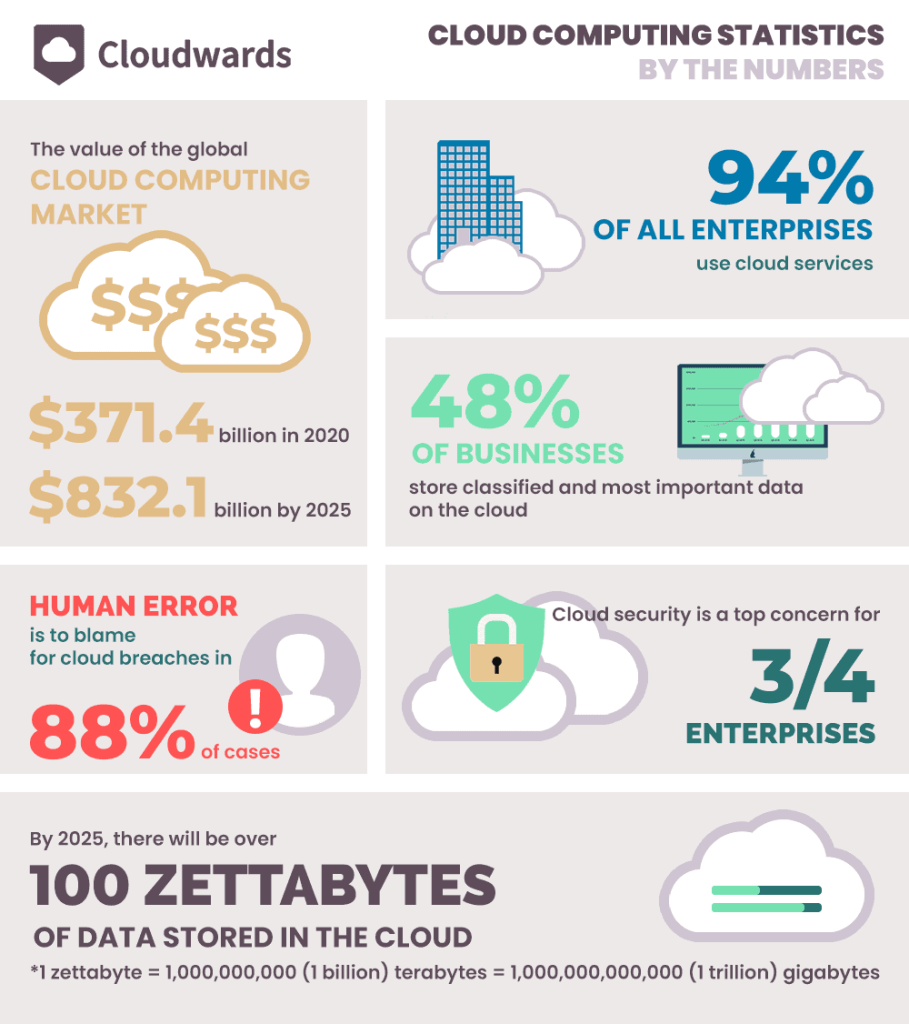 Top Free Cloud Storage Services in 2023
The cloud market is expected to grow from a run rate of $229 billion in 2019 to almost $500 billion by 2023. Moreover, The IDC report identifies SaaS as the largest spending category throughout the forecast period.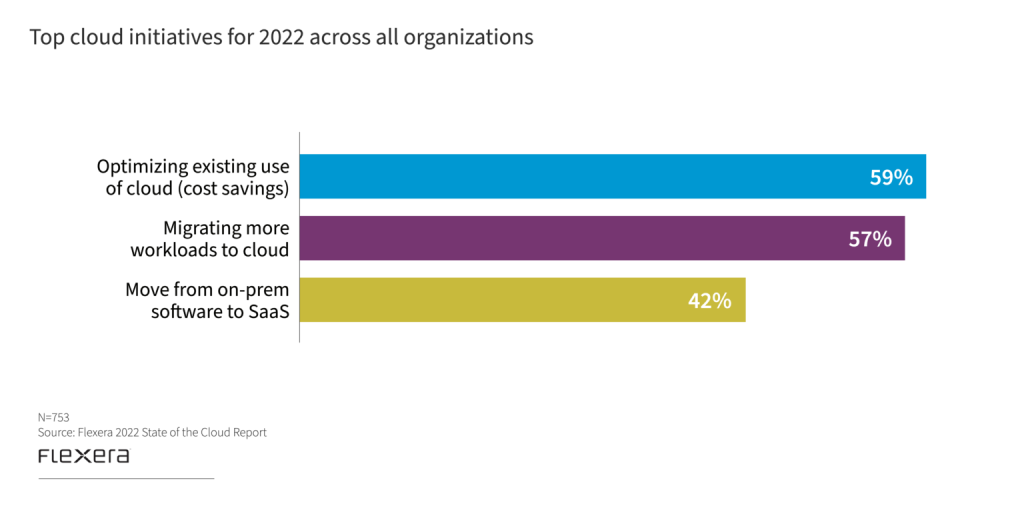 Besides the top free cloud SaaS options below, you can also use Nihao Cloud with several benefits, including a low entry level, up to 10 GBs of cloud storage available for free, and the option to pay as you go. This means that, like AWS S3 Glacier below, you only pay for what you need or use, this without he complications and limitations that AWS s3 and Glacier have for end users. Moreover, your data is also secured with end-to-end and zero-knowledge encryption. If you work in various places, including China, it's a great option. In such cases, you can use Nihao Cloud as your preferred cloud storage provider.
However, note that while we think ours is a great platform, this post is about the top free cloud storage services listed below, not NiHao Cloud. We are some what of a niche provider focused on cross borders team collaboration compared to the bigger players.
Mega: 20 GBs Free Cloud Storage
Mega is one of the oldest cloud storage services, offering many features. With an easy drag-and-drop UI and a free tier that sounds too good to be true– free 20 GBs of cloud storage, Mega is an excellent choice if you want a long-term solution.
Pros:
An amazing free tier of 20 GBs free cloud storage
Easy to use UI with the option to drag and drop files and folders
Highly secure; hence, it has true end-to-end encryption for all files, if you forget your password and lose the recovery keys, you can't access your data again
Cross-platform is available; not only can you can get it for Windows and Mac, but also Linux
Individual plans up to 8 TBs cloud storage; neither Google Drive nor Dropbox offers more than 3 TBs
Lets you preview media and document files
Cons:
All your data is removed if you don't log in for three months or more on the free tier; however, they do warn you a couple of times by email
If you upgrade to a premium tier, you MIGHT get your data back. But in my experience, it doesn't happen. I only recovered empty folders for 90% of the data
Premium tiers are a bit more expensive than some services on this list
It is slow to load the webapp; this needs to be improved to boost the UX
Collaboration options suffer due to the high security
iCloud: 5 GBs Free Storage
Apple launched iCloud back in 2011. I use it the most often in my daily life. So far, I have had an amazing experience using it for my data. It's easy to use and auto-syncs if you want. Moreover, iCloud is the joint second most popular free cloud storage service with 700 million users. (Source: Software Testing Help)
Also, iCloud subscription comes with many more features.
Pros:
Easy to use after the initial set up has been done
Seamless integration with the Apple ecosystem; i.e., you can access the shared data easily on all your Apple devices instantly
Strong security, after measures taken not to repeat the leaks in the past; iCloud use TLS 1.2 for encryption
Prices are tailored per the economic state of each country; hence, it is reasonable for all countries
Additionally, iCloud includes many free features, like:

iCloud Private Relay (Beta)
Hide My Email:
Custom Email Domain
HomeKit Secure Video Support
Cons:
Past security breaches still leaves a bad taste, most famously the leaks last decade
Limited android device support; not available on android phones and harder to sync on Windows
Lower tiers, 50 GBs and 200 GBs, are more expensive than other options on this list
Sync speed of iCloud can be slow sometimes as it can take a lot of time to sync
Google Drive: 15 GBs Free Storage
Google Drive is the most used cloud storage SaaS with over a billion users today. Also, it has a great free tier of 10GBs on signup and a great to use UI. Obviously, it's backed by Google with an insane amount of servers and storage. Furthermore, Google Drive is loaded with a suite of Microsoft-like tools. Including Google Docs, Slides, and Pages. Additionally, these tools offer real-time, online solutions for your ease.
Pros:
Up to 15GBs of free cloud storage is a great free tier
Easily access and edit your files from any devices on the cloud
Compatibility with Microsoft Office is a big help for organizations
Can open up to 30 different file types on the drive
Intuitive and excellent UI makes it easy to use, even for new users
Simple and easy file sharing to multiple people, with added restrictions for control and privacy
SSL encryption on files; it is a secure, two-way encryption to ensure only the two connected parties can exchange data
Cons:
Premium plans are more expensive than the cheapest upgrades on this list
A daily size upload limit. Per Google support: "Individual users can only upload 750 GB daily between My Drive and all shared drives. Users who reach the 750-GB limit or upload a file larger than 750 GB cannot upload additional files that day. Uploads that are in progress will complete."
A file upload size limit. According to Google support, "The maximum individual file size you can upload or synchronize is 5 TB."
According to Google's policy, its automated system automatically analyzes your content to improve your experience, allegedly: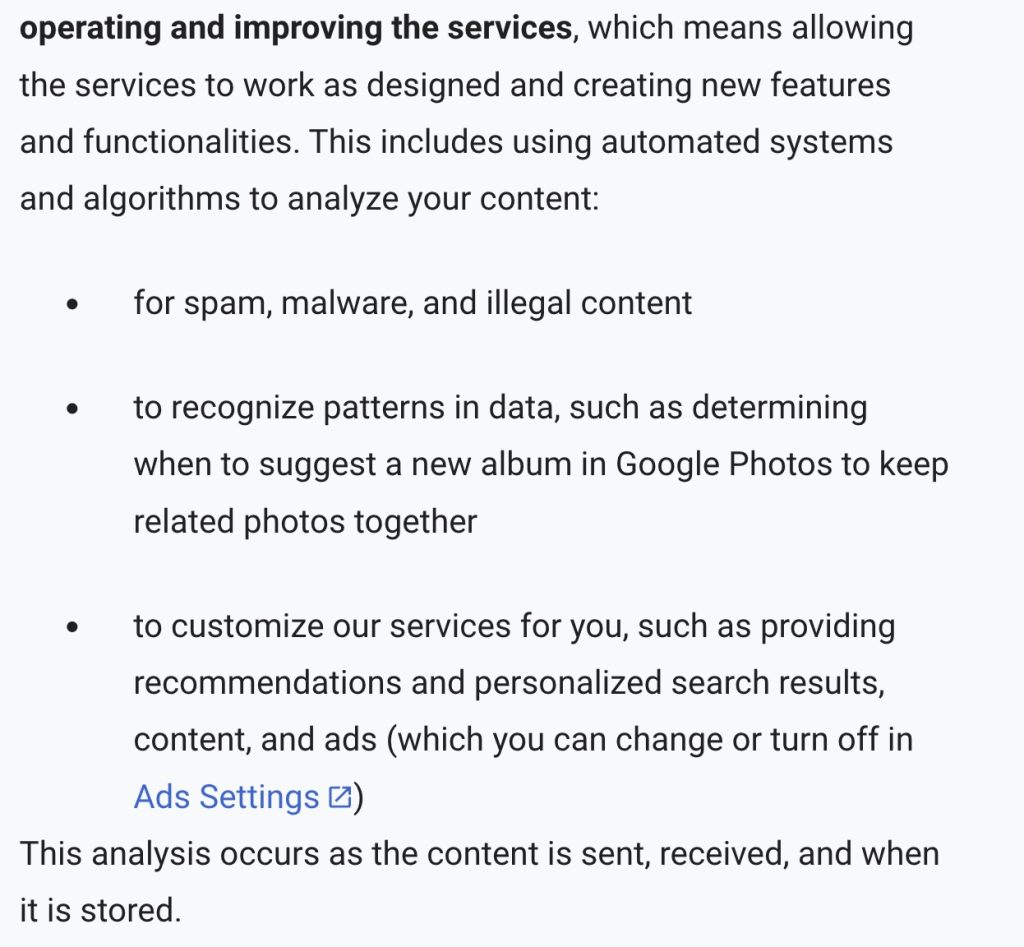 pCloud: 10 GBs Free Storage
Are you worried about your security? Don't want a case of… iCloud leaks? pCloud might be the best choice for you. It offers the highest security among the options on this list. pCloud offers free cloud storage of 10 GBs when you sign up, and you can upgrade if you need more security or storage options.
Pros:
Most secure free cloud storage service with 4096-bit RSA for users' private keys and 256-bit AES for per-file and per-folder keys, and zero-knowledge, per pCloud's website.
Offers 10 GBs of free cloud storage for new users
Rewind system– so, you can always access a lost file
Several lifetimes paid storage tiers; hence, with a one-time payment, you can own your cloud storage
Can easily store files from other online cloud platforms or social media platforms
Available on all platforms; Windows, Mac, and Linux and mobile phones
pCloud Crypto is the simplest and most secure way to store confidential files with high security and encryption
Cons:
Paid cloud storage tiers are priced much higher than other options on this list, due to the higher security with pCloud Crypto
Many users still face "The request could not be performed because of an I/O device error." on large uploads
Extra cost for pCloud Crypto is required to get the higher security options
Dropbox: 5 GBs Free
Well, you have certainly heard of Dropbox before. So, let's talk about Dropbox. What's more, is that why is it so famous? Dropbox was the first cloud storage site to be launched in 2007– years before the other options on this list. In addition, Dropbox is the second most popular free cloud storage service, with over 700 million users. (according to its financial statements)
Pros:
Versioning history and file recovery is robust
Easily integrates with trendy tools like Zapier, Canva, Slack, etc
Available on all platforms, including Windows, Mac, Linux and mobile phones
Easy to share files and collaborate with co-workers or friends
Offline file access for easy use without network requirement
Cons:
Only 5 GBs of free cloud storage is not enough to attract customers; but, you can gain much more with referrals
No encryption on the data stored is a big letdown
In case of inactivity, the data is deleted forever after 3 months
Limited file search with lack of metadata searching
Customer support is lacking, as it is not very helpful
Icedrive: 10 GBs Free
Icedrive is a new cloud storage service with a focus on encryption, availability, and affordable plans. On top of that, it is the only cloud storage SaaS with a bulletproof twofish algorithm encryption, which is stronger than AES.
Pros:
Up to 10 GBs free cloud storage available
Affordable lifetime plans with one-time payments to own your cloud storage
Zero-knowledge; also, end-to-end encryption with twofish algorithm; so, only you have access to the data
Available on Windows, Mac, and Linux and mobile phones
Unlimited file versioning history and auto file sync
Lets you preview encrypted files on the cloud
Cons:
Limited file sharing options currently with no control over access
Free cloud storage has no zero-knowledge encryption
A daily limit of 3GBs of data exchange per day on free cloud storage plan
No business or team plans for workplaces or organizations
Sync.com: 5 GBs Free
Sync.com is a speedy, quick solution to your free cloud storage needs. It is a new SaaS with many exciting features. What's more, it provides a modern and easy-to-use UI for its users. Moreover, Sync.com also prides itself on its zero-knowledge, end-to-end encryption.
Pros:
Modern and easy-to-use UI with many features
Your data is kept private, highly secure, with end-to-end and zero knowledge AES-256 bit encryption on the cloud
File versioning history to recover older versions of your files
Available on all platforms– Windows, Mac, and Linux
Many multi-user functionalities; so, you can control the access allowed to team members
Cheaper premium plans than the other options on this list
Cons:
Only 5GBs of storage in the free cloud tier
Customer support is lacking since there is only the option for email support; so, no live chats
You can only sync a single folder; so, nothing outside that single sync folder is synced
Per Sync.com's policy: "The free Sync Starter plan allows up to 20 downloads per day, per link. The limit resets every 24-hour period."
The UI can be slower to use, compared to other options on this list, and slower to sync data
Terabox: 1 TB Free Storage
Terabox is a relatively new cloud storage platform that offers up to 1 TB of free storage for its users. This truly sets them apart, as no other platform even has close to 1 TB of free storage on the cloud. However, some privacy issues may make you hesitant to trust them with sensitive data. Still, it doesn't mean you can't use it for storing less sensitive files. Right now, Terabox is offering 2 TBs for as low as $3.49!
Pros:
Insanely high amount of 1 TB for free cloud storage
Available on multiple platforms, including Windows, Mac, and mobile phones
File type organization makes it easier to sort files in your cloud storage, by type
You can limit the duration a shared file link stays active
Well, 1 TB of free storage on the cloud is no joke, right?
Cons:
A maximum of 500 files can be stored on the cloud
4 GB file upload restriction and safe storage space of 200 MB
Only support for 720p video playback quality in free cloud tier
Genuine data security issues since Terabox used to be DuBox. Baidu owned cloud storage which also offered 1 TB free cloud storage in China; however, after some time, threatened people to upgrade or lose their data forever
According to their privacy policy, they may share customer data with customer service and the IT department to assist their clients. In addition, the policy also states that they may share data with authorities in certain situations.
Can only open a limited number of file types from the cloud storage; cannot open simple file types like PDF or ZIP
No third party integrations with apps like Microsoft Office or Google Work Apps
Bonus: Amazon S3 Glacier
Amazon's Simple Storage Service or S3 Glacier provides a redundant data storage infrastructure for storing data on the cloud. In addition, Amazon's S3 Glacier is a secure, low cost and durable (99.999999999% per their website with nine zeros) cloud storage service.
It is the most economical and elastic cloud storage on this list. Why? For context, if you want 1 TB, it roughly accounts for only $4 per month. Isn't that great? I think so.
There are three cloud archival storage classes with different retrieval patterns and storage duration:
Glacier Instant Retrieval
S3 Glacier Flexible Retrieval
S3 Glacier Deep Archive
Pros:
Per Amazon's policy, Amazon S3 Glacier offers 10 GB retrieval each month
Scalability in your storage options; pay for what you really need and never a dime more with $0.004 per GB; you don't have to buy pre-packaged tiers
Advanced search options with a query options for better analytics and archival
AWS handles admin tasks such as capacity planning; so, no need to maintain archival database
S3 Glacier is distributed across multiple physical AWS Availability Zones at a time, increasing the durability of stored data
Cons:
It is complex to set up, even by AWS standards
There is no graphical interface so it can be hard to see what you are doing since you can only run commands on the CLI
S3 Glacier can be expensive if you are carefree
No app available on desktop or mobile phones
Complicated to use and you could make mistakes on the CLI
Conclusion: What is The Best Free Cloud Storage Service For You?
In conclusion, you should consider these top free cloud storage services. So far, in 2023, there are many great free cloud storage options. Therefore, weigh the pros and cons of each on this list depending on your needs.
For me, a streamlined UI/UX and upload/download speeds matter. In addition, there are other factors like storage amount and security. So, it's your choice which features you prefer over others. As a result, it is hard to find just one size fits all in these cases. Hence, you must keep an open mind and consider all factors when choosing.
If you like this post, please let me know below. I would love to hear your thoughts on which cloud storage service you use and why. Also, comment below if you found this post to be resourceful in helping you choose the right cloud storage service for you. Furthermore, there are many exciting posts on our blog you can check out if you enjoyed this one. For instance, Fingerprint Matching in Python and Nextcloud with Docker are a couple of examples.