China is the fastest growing economy and considered the "factory of the world". According to a United Nations report, about 28.7% or the global production is done here. Not just that, most of the production done here is more economical as compared to the other parts of the world. Therefore, importing products from China for the business is usually a natural choice for many people around the globe. However, it is often challenging to choose the right Chinese supplier from thousands of them for your business.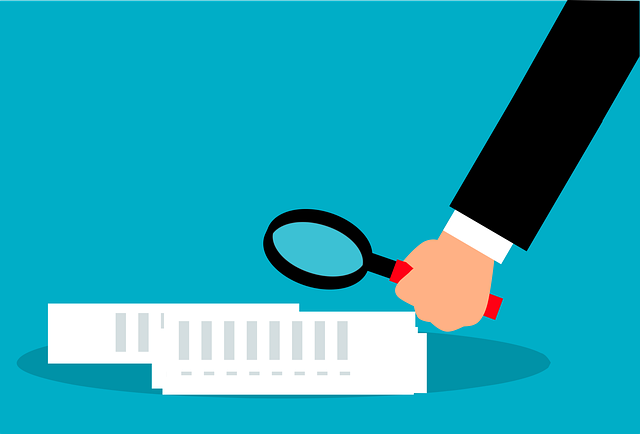 Before 2020 arrived, if anyone wanted to do business with Chinese companies, they would buy an air ticket, and land in China to find an appropriate supplier/manufacturer/source and secure a deal. However, traveling anywhere, and similarly to China these days, is not fun.
Even though the pandemic situation in China is largely under control, and most businesses are back to their normal, but internationally, it is still not so easy to travel right now.
Now when your situation does not allow traveling to China, you have to deal with suppliers without physically meeting them. Therefore, it becomes quite challenging to identify if they are a legit supplier/company/manufacturer for the business or not.
In this article, we will discuss how you can identify a genuine supplier among a million others in China.
So What Choices Do You Have in Choosing a Chinese Supplier?
Many small and medium business owners like to import goods from China. However, they lack in confidence in dealing with the Chinese suppliers and companies. There could be several reasons, including the language barrier, complicated international trading process, scams, or bad quality products.
There are some golden rules that apply to doing business with any Chinese supplier, regardless of the situation worldwide. To avoid being cheated, it is necessary to evaluate the company for their standing before making a deal.
If you are short on time, and have a little bit extra budget at your disposal, it is always recommended to hire a local agency for your help in business with Chinese companies.
However, if you have more time than money, then some hard work and extensive research could potentially do the job just as well.
How Can You Identify a Genuine Chinese Company or Supplier?
There are a number of methods you can use to identify potentially a genuine supplier among the not so trustworthy ones. Beware that no method actually guarantees 100% authenticity on any company's legal standing or reputation. However, by keeping your sensors on during your conversation with the supplier, and using multiple methods, you can have a good idea if it seems safe enough to go ahead with the supplier for your business or not.
Method 1: Request Your Supplier for Chinese Business License and Other Certificates
There are several certificates that you should be asking for whenever you are engaging with a Chinese company or supplier.
1 – Check Their Business License (营业执照)
Every company in China needs to have a business license issued by the government. This is not a secret document. In fact, the law requires every company to display their business license at a prominent location at their business place. To verify if your supplier is legit, it is a good idea to ask them about their business license. Verifying the business license is usually the first step when doing due diligence on a Chinese supplier. You may often find a company who is reluctant to show their business license upon your request. If this is the case, then probably something is not right.
The business license in China gives you some basic, yet official information about the company. As such, it allows you to check that your supplier is registered and operates legally. Let's discuss this in a bit detail.
Here it is what a China business license looks like: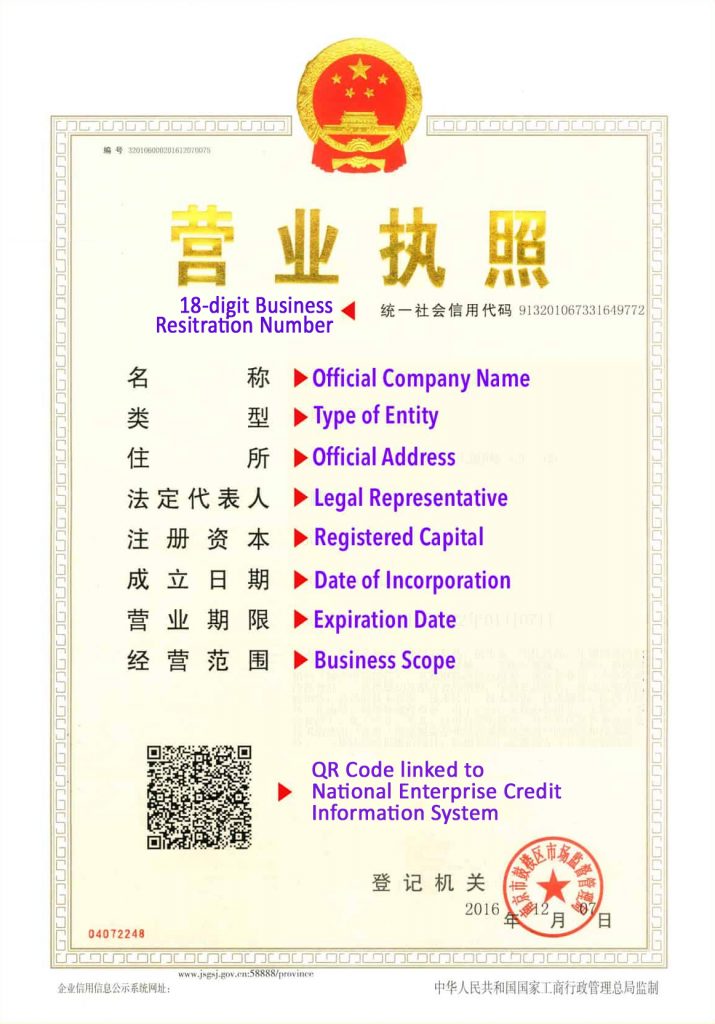 The China business license is only issued in Chinese language. You may use the "Google Translator" or the "Baidu Translator" application on your mobile phone to translate the content on the image of the business license to English. Beware that this machine translation may give you good enough information, but may not be accurate. To make sure about the license content, you may make use of a human translation service for more accuracy.
Chinese government usually issues business license in both "Portrait" (vertical) and "Landscape" (horizontal) orientation. However, both copies contain the same information. Different companies may show you license in different orientation.
The business license provides the most important data, which includes:
18-Digit Chinese Business Registration Number:
This unified business registration number provides useful information about the company:
First digit: Registering authority
Second digit: Entity type
Digit 3-8: Registering region
Digit 9-17: Organization code
Last digit: Check digit
Official Company Name:
When registering, a company may choose only a Chinese name or both Chinese and English names. Most companies in China are registered with their Chinese names only. They do not officially register an English name. A lot of English company names you may find on buying platforms, such as Alibaba, are using their unofficial names.
Type of entity
Official Address:
This is the registered address of the company, which can be different from their factory address.
Legal Representative:
This is the name of a person who is legally representing the company. This is typically the owner or the co-owner of the company.
Registered Capital:
Depending on the type of a company, the registered capital can be as low as 10,000 CNY or as high as 20 million CNY or above. For example, a small trading company may register for relatively a low capital, but big manufacturing companies may register with large amounts in capital.
Date of Incorporation:
It is generally good to do business with a Chinese supplier who has been in the market for at least 2-3 years.
Expiration Date
Business Scope:
The business scope defined on the business license covers exactly what a company is legally permitted to do. The business scope is typically very specific. Anything not mentioned on the business scope is deemed illegal. For example, it may include "manufacturing and trading of electrical equipment" and "no trade of items subject to license approval". However, if the company is offering services outside this business scope, then you should obviously see this as a red flag.
QR Code:
You may scan the QR code to see the details of the company on government's official database: National Enterprise Credit Information Publicity System (NECIPS). Cross check all the details on the database to see if they are same as mentioned on the business license you received from the company.
Verifying business license is a good document to good to start with, but checking other documents can also come in handy.
2 – Bank Account Certificate (开户许可证)
If they have this certificate, it proves that they are a genuine holder of the bank account, and your money actually goes to the company.
However, a company may operate more than one bank account, for example, to handle different currencies or different modes of business. Nevertheless, the take away here is that, always transfer money to company's back account, and not to any personal accounts.
3 – ISO 9001 Certificate (ISO9001质量管理体系证书)
Requesting for ISO9001 certificate is usually a good measure to ensure that the organization's quality management system is certified. Cross check the details on the certificate, and also verify the certification authority.
4 – Test Reports (测试报告)
Request for the test reports of the items to confirm that the goods are being produced to the standard you require. Make sure the test reports are of the same items that you are interested in. Check the details of the report to see if the report actually contains the information that you need. Some supplier's may show you the test reports of other items that you are not looking for.
5 – Purchase Invoice or Proforma Invoice (形式发票)
This is the invoice your supplier should provide you against the products you are buying. Carefully check all the details on the invoice, including product detail, price, name of the company, bank account information, and so on.
6 – Foreign Trade Registration Certificate (对外贸易经营者备案登记表)
This certificate is only required for the companies which are directly engaged in foreign trading. If a company does not possess this certificate, then they are possibly using a trading company to export their goods. If they posses this certificate, then it is good. Otherwise, check and confirm with them if they are using a third party to ship goods outside China.
7 – Customs Registration Certificate (进出口货物收发货人报关注册登记证书)
The Chinese companies who possess this certificate are registered with China Customs to make custom declarations. Not every company who is engaged in foreign trading possess this certificate, as they may use another broker for this process. Nevertheless, it is a good method to understand their capabilities.
Method 2: Ask Your Supplier for Reference
Ask you supplier for their bank's reference letters to verify their credit worthiness.
You may also ask for their previous or other current customers as a reference, and do not hesitate to contact them. This will give you a great insight on supplier's track record in producing the required items.
But, here is a catch. Many good manufacturers want to keep their customer list private, except when they work with some big customers that everybody knows. They may refuse, for the fear that their competitors may try to contact the customers and underbid them. So, this also may not be a fruitful method, but it is good if they provide you any reference to vet their claims.
Method 3: Use Search Engines to Find Out Their Reputation in the Market
Use Google, Bing and Baidu search engines to run a quick background check. Open a search engine, and type the company name and their phone number in the search field and hit search. The search results may display some useful information about the company. Such as, any exhibition or a trade show they might have attended recently, or an award that they have received from some reputed organization, and so on.
Now run the search for their negative reputation. Open a search engine, and search for "[company name] + fraud", "[company name] + scam" and some other similar variations.
Use these helpful tips when performing search:
Run these search queries with their English name as well as Chinese names (with Chinese characters).
Use Google Chrome to perform these search queries. The search results may display references to some Chinese websites. The Google Chrome browser usually translates the Chinese websites to English automatically. If the browser does not translate these websites automatically, you can configure it to do so when required.
If they have provided you some images of their factory or manufacturing unit, use Google Images, Bing Images or Baidu Images to see if anyone else is using these images or not. There are chances they might have provided you images of some other factory that does not belong to them.
Method 4: Request for a Sample
Regardless of what you are buying, it is good to ask for their sample—even if you have to pay for it. When you have the sample in your hands, you can check the quality of the product to see it if fulfills your requirements. You may also know about their service and attitude.
If you have to pay for it, tell them that you want to wire transfer the payment directly into their company's bank account. If they cannot provide you their account information, then the things are fishy.
Conclusion:
Doing business with Chinese company or a supplier requires due diligence. You should perform a proper check and verification for the companies to know that they are what they claim to be. Check all the details in the documents they provide to you very carefully. They may provide you a different document than what you requested, or the document that does not contain the relevant or complete information.
You would definitely not want to work with a supplier that is non reliable, often provides inferior quality products, or delays shipments. In this article, we introduced some tips that you can use to vet your supplier before making a final decision.